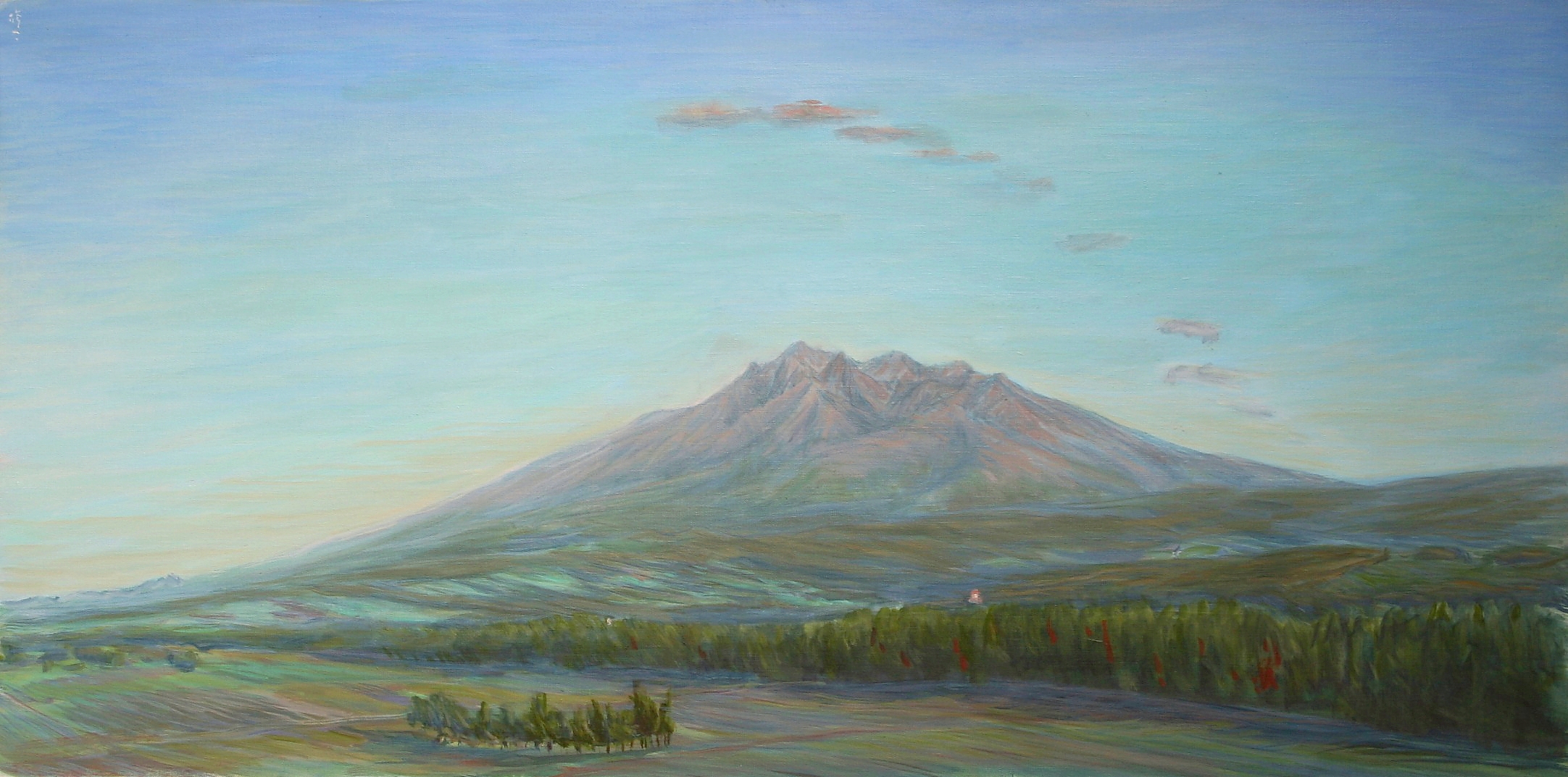 - Mt.Shari in twilight - 80x40cm 2009 (Kiyosato)
I went to Mt.Shari to paint. This mountain is called "Onnenupuri - old mountain" in Ainu. It has deep gorges caused by wind and snow over a long time. Although I had seen photos of the beautiful mountain, I was quite excited to see the real thing. It was an ideal mountain for me to paint. I started to paint at the foot of the mountain and stayed 3 nights, then drove for 6 hours to get home.
While I was waiting to get well, I looked at the painting in my atelier. I was not happy about it. The mountain was not majestic enough in the painting. I decided to try to paint from a little further away from the last spot. I went back to the mountain. I stayed 3 nights there but it was too cloudy to see the mountain. I couldn't decide on the composition. I felt terrible and went home.
The third time, after I walked around for 3 days, I decided on a position up the hill. The next day I spent the day painting then went home in the evening. I was not happy about the painting when I looked at it in my studio again. It was out of harmony with the mountain, the sky, the larch as a windbreak and the field.
The fourth time, the weather was nicer and I felt good about the mountain. I shifted the mountain slightly to the right and felt much better about it. I emphasised on perspective of larches on this side. I felt like I could paint the air in the painting. Since the week before, the colour of the leaves had been changing into red a lot and I could see the bottom of the mountain clearly. I used a bigger brush to paint red mountain grapes along with a row of larches. This made the perspective of the paintings much better. I still couldn't decide on the clouds. I added light orange colour between the sky and the mountain. The angle of the mountain and sky had gotten clearer and the impression was softened. I drew the clouds like they had just appeared from behind the mountain. The mountain and the clouds became harmonious.